Stacey Evoy, 2016 President of LSTAR, presided over the Association's 2015 Annual General Meeting, which took place on April 19, 2016 at the London Convention Centre. "Like you, I'm a grass roots, boots-on-the ground, working REALTOR®," she told the approximately 500 LSTAR Members and guests assembled, whom she described as her "heroes". "It is great the work REALTORS® do – building strong, vibrant communities, one house and one business at a time, and then working overtime to ensure that the Quality of Life in those communities is the best it can be."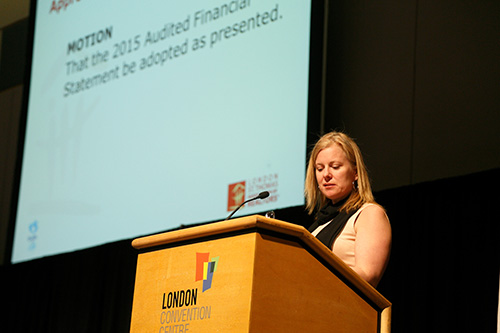 Mayor Matt Brown was on hand to deliver greetings from the City of London and to thank REALTORS® for the vital role they play in boosting the local economy – according to recent research conducted by the Altus Group, one job is created for every three real estate transactions and approximately $55,000 in ancillary spending is generated every time a house changes hands in Ontario. In 2015 alone sales through the Associations MLS® System spun approximately $515,130,000 into the local economy and created approximately 3,122 jobs.
Also in attendance were, from the Real Estate Council of Ontario (RECO), Kate Murray, CEO, Kevin Kucey, Deputy Registrar, Jody Lavoie, Chair, and Peter Hoffman, Director and a Past President of LSTAR, along with his wife Suzanne Hoffman. They were joined by Lois Langdon, the Executive Director of the London Home Builders Association, Paul Way, President of the London Chamber of Commerce, Cliff Iverson, President of the Canadian Real Estate Association (CREA), Costa Poulopoulos, CREA Regional Director for Ontario and a Past President of LSTAR and his wife and fellow REALTOR®, Mary Johnson. Representing the Ontario Real Estate Association (OREA) were Ray Ferris, President, Eavan Travers, Commercial Director, Karen Cox, Western Area Director and Barb Whitney, another Past President of LSTAR and the current President of the Ontario REALTORS Care Foundation. The Association's Auditors, Ford Keast – Chartered Accountants, were represented by Paul King, while its MLS® Provider, ListCENTRAL, was represented by General Manager Joel Shears and HDSA Armand Chinapen. Canada Mortgage and Housing Corporation (CMHC) was represented by Joelle Jackson and Mary Stergiadis, Managers. Chris Butler, Account Manager, and Phil Share, Account Executive, represented Teranet-Geowarehouse and Evelyn Paar, Touchbase.
LSTAR's CEO Betty Doré was presented with the Lyn Coupland Outstanding Service Award. "Betty's commitment, over nearly four decades, to LSTAR, to its members, to Organized Real Estate and to the community is simply unsurpassed," said LSTAR President Stacey Evoy. REM, the Real Estate Magazine, recently named Betty one of the most consequential influencers in Canadian Organized Real Estate over the past 25 years.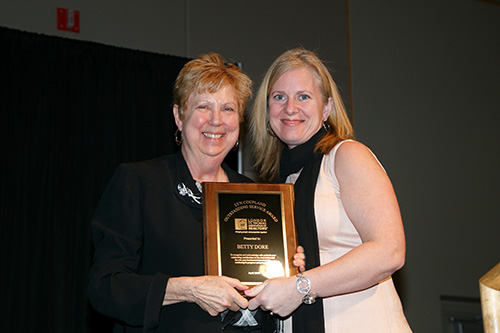 LSTAR Bonspiel Committee Chair Glen Gordon was on hand to present Mission Services of London's President Allen Page, and its Executive Director, Peter Rozeluk with a cheque for $11,411, representing the funds raised by this year's Bonspiel. This raises the total LSTAR has donated to Mission Services over the years to $322,424.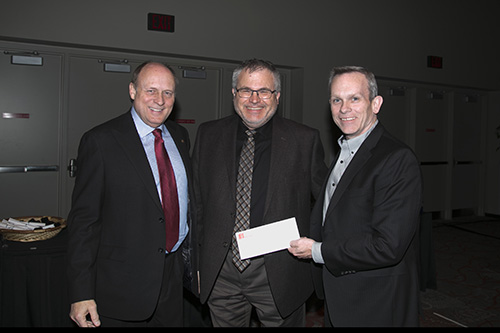 Finally, 2015 Christmas Gala Chair Michelle Orsini presented Rhonda Hallberg, Board Member, and Ailene Wittstein, Executive Director of the Merrymount Family Crisis and Support Centre, with a cheque for $27,941, raised by the 2015 LSTAR Christmas Gala, bringing the Association's total to date donation to Merrymount to $79,372.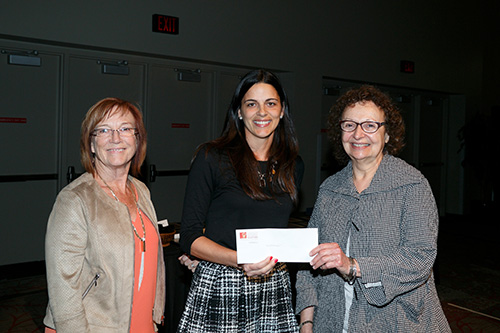 Click here to see the original News Release of LSTAR.