The London and St Thomas Association of REALTORS® (LSTAR) announced another record month for residential sales in March, with a total of 1,242 homes sold, an increase of 44% over the same period last year. This represents the best results ever for March since LSTAR began tracking sales data in 1978.
"We continue to experience a very robust marketplace, with some very strong year-to-date sales as well," said Jim Smith, LSTAR 2017 President. "After the first quarter of 2017, year-to-date sales are up by 30.4%, compared to 2016. We've been telling consumers who are thinking about putting their home on the market that current conditions are very encouraging. You have to go back to 2004, the only other instance when sales surpassed 1,000 homes in March."
In March, a total of 1,006 detached homes were sold, an increase of 46.9% over the previous year, while there were 236 condominium sales, up 34.9% from 2016. The average sales price was $329,218 - up 6.9% from the previous month. In looking at the first quarter of 2017, the average sales price was $314,847, up 12.8% from the first quarter of 2016.
"March started to see mild, spring-like temperatures in weather, and this could also have been a factor helping the month's sales," Smith said. "We continue to see the trend of low supply and high demand, with the number of listings down 7.9% compared to a year ago. Now more than ever is an ideal time to get in touch with a REALTOR®."
St. Thomas also had a very healthy March, with a total of 108 homes sold, up 44% from the same time last year. The average home price in St. Thomas was $247,455 up 2.2% from the previous month.
The best-selling house style in March continues to be the two-storey, followed by the bungalow and ranch. The average price for a detached home in March was $355,651 up 8.5% from the previous month, while the average price for a condominium was $216,539 down 8.3% from the previous month.
| House Style | Units Sold | Average Price |
| --- | --- | --- |
| 2 storey | 315 | $471,815 |
| Bungalow | 112 | $267,521 |
| Ranch | 110 | $426,961 |
| Townhouse | 104 | $197,032 |
| High rise apt. condo | 55 | $195,902 |
The following chart is based on data taken from the Canadian Real Estate Association's (CREA) National MLS® Report for February 2017 (the latest statistics available). It provides a snapshot of how average home prices in London and St. Thomas compare to other major Ontario and Canadian centres.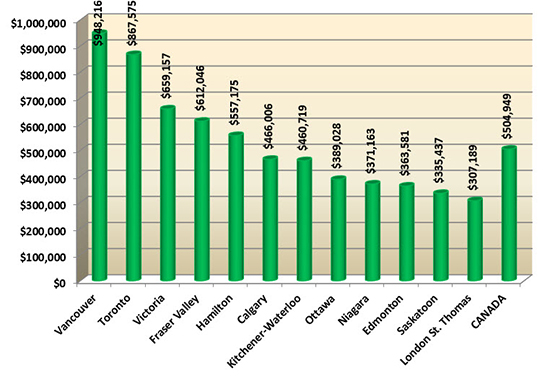 According to a research report1, one job is created for every three real estate transactions and approximately $53,000 in ancillary spending is generated every time a home changes hands in Ontario. "With the March sales, that translates into creating potentially over 400 jobs and setting us up to potentially generate almost $66 million back into the local economy," Smith said.
Click here to see the original News Release of LSTAR.
---
1Economic Impacts of MLS® System Home Sales and Purchases in Canada and the Provinces, Altus Group Consulting, 2013