Sales last month outstripped those of the previous April by 17.3%, with 716 detached homes exchanging hands and 164 condos. "Although we're obviously delighted by these figures, we need to put them in perspective," advises Barb Whitney, President of London and St. Thomas Association of REALTORS® (LSTAR). "In April 2011 sales were down 26.3% from those of April 2010 – the same month that set an all-time LSTAR record for the month of April, 2010 of 1,017 sales. What we're seeing now is more on a par with previous Aprils going back to the turn of the millennium."
"Active listings at month's end were down 4.9%, which is a bit of a departure from what we've seen over the past several years and points to a ramping up in activity," says Whitney. "We continue to see our market as balanced, however – now and for the near future."
Real estate sales remained steady in London's Sister City of St. Thomas – 59 units, only one less than the previous year. The average price for a home in St. Thomas stands at $185,839 Year to Date, up 8.7 % since January 2012.
The average price for a home in LSTAR's jurisdiction Year to Date stands at $237,622, an increase of $12,595 (or 5.6%) since January 2012. The average price for a detached home over that same period stands at $253,855 up 7.5 %, while the average price for a condo stands at $168,695, down 0.2% from January.
The following chart, based on data taken from CREA's National MLS® Report for March 2012 (the latest information available), demonstrates how homes in LSTAR's jurisdiction continue to maintain their affordability compared to other major Ontario and Canadian centers.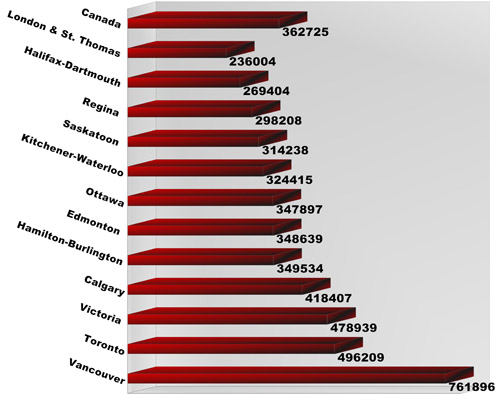 Read the full News Release of LSTAR.