A total of 475 home sales took place in December, making the last month of 2014 not only the best December since 2006, but also the eighth straight month in a row in which area home sales outstripped those of the previous year:
May by 5%
June by 23.4%
July by 24.4%
August by 13.6%
September by 11.1%
October by 8.4%
November by 4.7%
December by 14.7%
"A total of 8,521 homes sold in 2014, the highest number since 2007, just prior to the global financial meltdown that impacted housing markets in both Canada and the United States," explains Carl Vandergoot, the 2015 President of the London and St. Thomas Association of REALTORS®. "It's been seven lean years, but our market is definitely showing signs of a strong, steady and sustainable recovery."
Also up for the year were listings - a total of 16,492 homes were listed in 2014, up 3.7% - while inventory - active listings at the end of period - was down a marginal 0.5%. Throughout 2014 the market remained balanced.
The average price of a home in the Association's jurisdiction for the year stands at $254,141, up 3.4% over what it was on December 31, 2013.
The best-selling house style in LSTAR's jurisdiction for 2014 was the two-storey, then the bungalow, followed by ranches, then townhouse condominiums, then high rise apartment condos.
| House Style | Units Sold | Average Price |
| --- | --- | --- |
| 2 storey | 2,092 | $349,182 |
| Bungalow | 1,405 | $199,436 |
| Ranch | 1,043 | $310,344 |
| Townhouse | 740 | $161,241 |
| High rise apt. condo | 413 | $164,566 |
"These stats are good news not just for REALTORS® but for our local economy as a whole," says Vandergoot. "According to research by the Altus Group, one job is created for every three real estate transactions and approximately $55,000 in ancillary spending is generated every time a house changes hands in Ontario. Do the math. You'll be impressed."
2014 also proved a good year for London's Sister City of St. Thomas. "As was the case with London, the best year for home sales in St. Thomas was 2007, when 867 homes exchanged hands," says Vandergoot, "while its second best was 2014, when 708 homes sold." Forty homes sold in St. Thomas in December, making it the best December for that City in the past decade, second only to 2011. The average price for a home in St. Thomas in 2014 stood at $199,885, a marginal 0.8% lower than that of 2013.
The average price for all homes in the London and St. Thomas area for the month of December stands at $252,746. The following chart, based on data taken from CREA's National MLS® Report for November 2014 (the latest information available), demonstrates how homes in LSTAR's jurisdiction continue to maintain their affordability compared to other major Ontario and Canadian centers.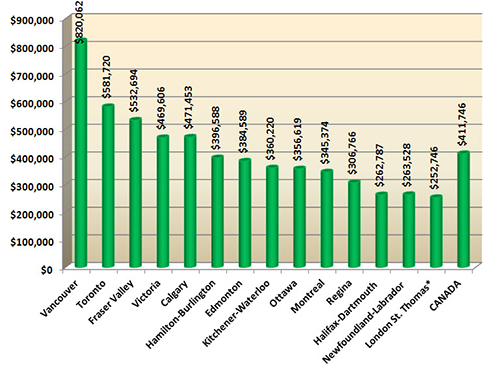 Click here to see the original news release of LSTAR.
---
* The average price in the month of December 2014