April saw the condo market rebound to more normal levels. 170 condos sold last month, up 18.1% from the previous year. "The market for condos has been unusually slow over the last year," says Jim Holody, President of the London and St. Thomas Association of REALTORS®. "However, the five year average for condo sales in April is 158.2, so we're not far in excess of that. This apparent uptick in sales is probably more like a market correction."
Detached homes did not fare as well last month. 666 detached homes sold in April, down 7.5%. "The five year average for detached homes in April is 711.2. When you take that into consideration, the numbers are down, but not dramatically," says Holody. Total home sales are down 3.2 for the month.
Overall listings for the month were down 2.2%, while inventory – active listings end of period - were up 0.9%. The local market continues to be a balanced one.
The City of St. Thomas saw 77 homes exchange hands in April, up 1 sale over 2013. Listings were up 5.5% and the average price for a home in St. Thomas, Year to Date, stands at $201,249, up 6% compared to December 31, 2013.
The average price of a detached home in LSTAR's jurisdiction Year to Date stands at $266,536, up 2.1% compared to December 31, 2013, while the price of a condo dropped 2% to $174,680. The average price for all homes sold in LSTAR's jurisdiction Year to Date was $248,675, up 1.2%.
The following chart, based on data taken from CREA's National MLS® Report for March2014 (the latest information available), demonstrates how homes in LSTAR's jurisdiction continue to maintain their affordability compared to other major Ontario and Canadian centers.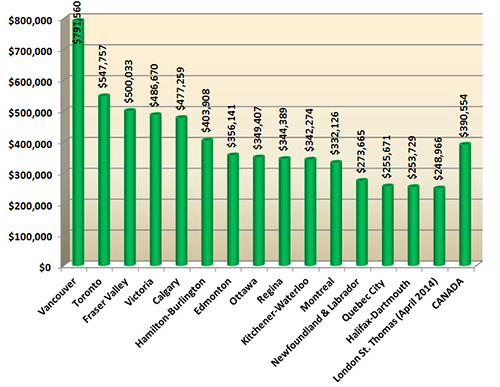 The best-selling house style in LSTAR's jurisdiction for April 2014 was the two-storey, then the bungalow, followed by ranches, townhouse condominiums, then high rise apartment condos.
| House Style | Units Sold | Average Price |
| --- | --- | --- |
| 2 storey | 203 | $344,843 |
| Bungalow | 120 | $196,050 |
| Ranch | 107 | $305,125 |
| Townhouse | 76 | $158,347 |
| Apartment High Rise | 52 | $311,455 |
Click here to read the full News Release of LSTAR.