Sales stabilized in October 2012, with 624 homes exchanging hands over the course of the month. Altogether 502 detached homes sold, 1.4 % up from the previous year, and 122 condos, up a resounding 38.6 % from October 2011. Altogether sales were up 7% from the previous year. "Condo sales have been quite slow over the past five months and they were significantly down in October last year, so pent-up demand was undoubtedly a factor last month," says Barb Whitney, President of the London and St. Thomas Association of REALTORS® (LSTAR). Year to Date sales total 7,132, up 0.6% over 2011.
New listings were also up, 3.6% for detached homes and 32.8% for condos. Overall new listings were up 8.5%. Inventory – the number of active listings at month end – was down 6.4%.
London's Sister City of St. Thomas also fared well in October. Fifty nine homes sold, up 15.7% from the previous year. The average price of a home in St. Thomas Year to Date stands at $190,764, up 0.7% from December 31, 2011.
The average price for a detached home in LSTAR's jurisdiction Year to Date stands at $254,522, up 4% compared to December 31, 2011, while the average price for a condo for that same period stands at $172,080, down 4.2%. The average price for all housing types Year to Date stands at $239,136, up 2.9%. As regards the average price for condos in October, Whitney cautions, "Two very expensive condos sold last month, which has skewed the average price for this house type upwards."
The following chart, based on data taken from CREA's National MLS® Report for September 2012 (the latest information available), demonstrates how homes in LSTAR's jurisdiction continue to maintain their affordability compared to other major Ontario and Canadian centers.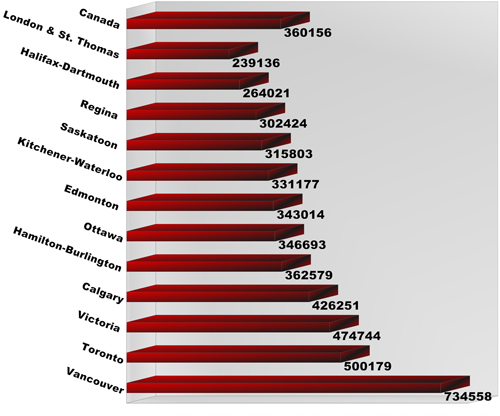 Click here to read the full News Release of LSTAR.