The Regional Commercial Council of LSTAR has named the twenty contenders for the 2013 Don Smith Commercial Building Awards. The event is sponsored by CBRE, Dancor Construction, Elgin County and Millennium Real Estate Solutions. Judging tour transportation is generously provided by Voyageur Transportation Services.
To be eligible, properties must fit into one of the following categories: Commercial (including retail and office buildings); Industrial; Institutional (community); or Multi- family. They must also be located within LSTAR's jurisdiction of Middlesex and Elgin Counties and must have been completed between August 1, 2011 and August 30, 2013.
The contenders in Commercial category are:
Carpenters Union Training Centre & Administration Building (3800 Highbury S);
3M Canada Corporate Headquarters Expansion and Renovation (300 Tartan Dr);
725-751 Fanshawe Park Road West; and
Highland Country Club - 2nd Floor Members Lounge & Patio (1922 Highland Heights)
In the Industrial category are the following properties:
ATS Health Care (1605 Max Brose Drive);
Columbia Sportswear Canadian Headquarters (1425 Max Brose Drive);
Fed Ex (1650 Wilton Grove Road);
Southwest Doors & hardware Ltd. (3851 Commerce Road);
1420 Global Drive;
15700 Robin's Hill Road; and
15875 Robin's Hill Road
Falling into the Institutional or Community category the nominees are:
Goodwill Social Enterprises Abilities Centre (255 Horton Street);
Middlesex Centre Wellness and Recreation Complex ( 1 Tunks Lane, Komoka);
The Richard Ivey School of Business , Western University (1255 Western Road);
St. André Bessette Catholic Secondary School (2727 Tokala Trail);
St. Thomas Regional Mental Health Care (467 Sunset Dr, St. Thomas);
Watershed Conservation Centre ( 1424 Clarke Road); and
Wind Engineering Energy & Environment Dome (Windeee) (2535 Advanced Ave.).
The nominees for the Multi-family award are:
The Renaissance II (330 Ridout Street North); and

The Residenza Italia ( 1109 Hamilton Road)
The properties will be judged on how sensitive they are to the environment; on design and innovation; and on the extent to which they meet a specific developmental need within the community.
"When we undertook this Awards program, our intention was to recognize and reward excellence in commercial building in our Association's jurisdiction; what better way to exemplify excellence than to name the awards after local construction icon Don Smith" comments RCC Chair Elect, Jack Lane. "This will be our first awards ceremony since Don's passing. It will be a bittersweet celebration for many in attendance. Don and his wife Joan always flew back from St Lucia to attend the awards ceremony as the awards meant a lot to him. This year we will celebrate Don as well as the nominated projects. The quality of the projects under consideration is truly impressive and that, in itself, is reason to celebrate."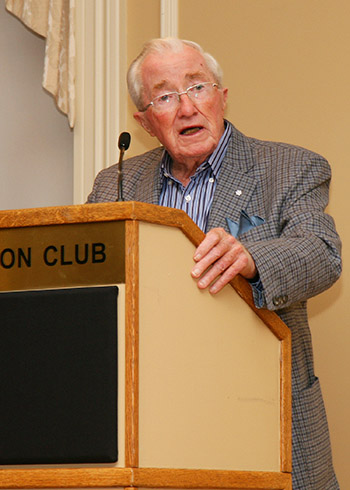 A distinguished of panel of judges, comprised of respected industry leaders in the community, will determine the winners. The panel includes:
Bill Code, Professor Emeritus and Founding Director of the Urban Development Program of the Western University

David Murphy, President, Murphy and Murphy Architects Inc.

Joe Ruscitti, Editor in Chief of the London Free Press;

Jim Yanchula, Manager, Community Planning and Design, City of London;

Peter White, Executive Director of Government Relations and Strategic Partnerships, Western University; who was our chair of the Judges Panel
The winners of the Don Smith Commercial Building Awards will be announced Tuesday, February 4th, during a reception at the London Club from 4:00 until 6:00 p.m. Tickets can be purchased for $25 by e-mailing Tracy Marino at tracy@lstar.ca or by calling 519.641.1400.
The Association's jurisdiction includes Middlesex and Elgin Counties, home to nearly 500,000 residents. An average of $46,400 is spent in additional expenditure per real estate transaction in Canada. REALTORS® believe healthy communities depend on a strong economy, safe neighborhoods, a clean environment, access to housing and the protection of rights of property owners.
The Multiple Listing Service® is a cooperative marketing system used only by Canada's real estate boards and associations to ensure maximum exposure of properties for sale. All of LSTAR's listings may be found on the public website at www.REALTOR.ca.
Click here to see the original News Release.