The Spring Market might have been slow out of the gate, but it more than made up for any lost time in May. A total of 988 homes exchanged hands last month, the highest record for a month in six years. "Condo sales took it over the top. 793 detached homes sold in May, up 0.5%, but it was the 195 condo sales - up 28.3% - that made the difference. "Condo sales have been lagging over the past several years," says Jim Holody, President of the London and St. Thomas Association of REALTORS®, "so we knew there was pent-up demand. What we're seeing here . . . and last month when they were up as well, is a market correction – a very positive one in light of the important role condos play in the housing mix."
Listings for detached homes were up 1.5%. Not surprisingly, given the number of condo sales in May, listings for condos were down 2.2%. Nevertheless, the market continues to be a balanced one, with advantages for both buyers and sellers. "We're starting to see the market heat up," says Holody. "Now that one of the longest and coldest winters in living memory is finally over, people are going to be out and about, looking at real estate. We anticipate a brisk summer market going forward."
"St. Thomas sales are a little soft," says Holody, "but the prices are holding and that's important." The City of St. Thomas saw 73 homes exchange hands in May,13 short of the previous May but not far off the ten year average for May of 79 sales. Listings were down by 17 units and the average price for a home in St. Thomas, Year To Date, stands at $202,155, up 0.3% compared to December 31, 2013.
"London's average price continues to rise in small increments, just as CMHC predicted," says Holody. The average price of a detached home in LSTAR's jurisdiction in May 2014 stood at $275,779, up 2.3% from April 2014, while the price of a condo rose 15.1% to $193,990. The average price for all homes sold in LSTAR's jurisdiction in May 2014 was $259,636, up 4.3% from April 2014.
The following chart, based on data taken from CREA's National MLS® Report for April 2014 (the latest information available), demonstrates how homes in LSTAR's jurisdiction continue to maintain their affordability compared to other major Ontario and Canadian centers.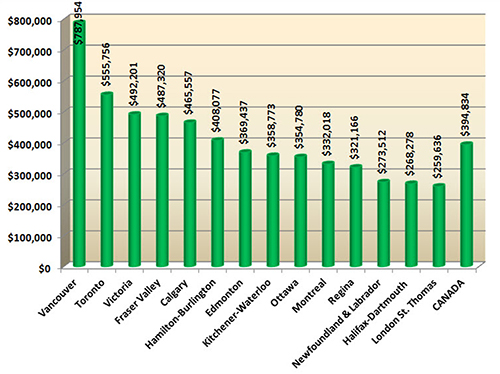 The best-selling house style in LSTAR's jurisdiction for May 2014 was the two-storey, then the bungalow, followed by ranches, then townhouse condominiums. High rise apartment condos tied for the next most popular with one and a half storey homes.
| House Style | Units Sold | Average Price |
| --- | --- | --- |
| 2 storey | 231 | $355,848 |
| Bungalow | 165 | $206,923 |
| Ranch | 135 | $309,758 |
| Townhouse | 89 | $158,010 |
| High rise apt. condo | 48 | $197,038 |
| 1› storey | 48 | $211,646 |
See the original Statistical News Release of LSTAR for May 2014.