Overall sales in LSTAR's jurisdiction were up 3.2% in October, with a total of 644 homes exchanging hands in LSTAR's jurisdiction. Detached homes were up 3.6%, while condos were up 1.6%. "This is just the sort of market we like to see," says Doug Pedlar, President of the London and St. Thomas Association of REALTORS®. "Very much business as usual." This brings our year to date only down by 2.6% over 2012.
The City of St. Thomas's market saw a dip in sales in October. 48 homes sold in that City, down 11 sales. Year-to-Date, however, sales are up 7.6%. The average price for a home in St. Thomas Year to Date stands at $190,764, up 3.4%.
The average price of a detached home Year to Date in LSTAR's jurisdiction is $261,380, up 2.7%, while the average price of a condo for the same period stands at $178,786, up 4.3%. The average price of all homes Year to Date in LSTAR's jurisdiction is $246,221, up 3.1%.
The following chart, based on data taken from CREA's National MLS® Report for September 2013 (the latest information available), demonstrates how homes in LSTAR's jurisdiction continue to maintain their affordability compared to other major Ontario and Canadian centers.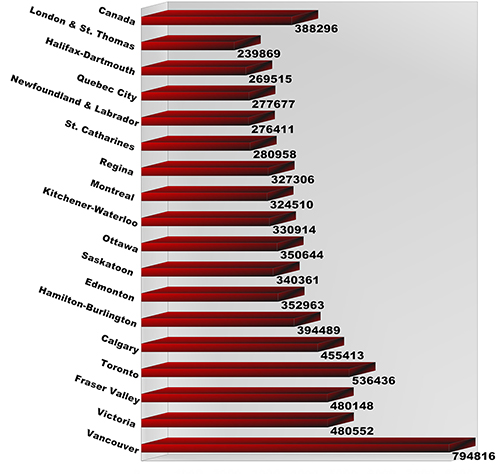 The best-selling house style in LSTAR's jurisdiction in October 2013 was the two-storey, followed by the bungalow, then the ranch, then the townhouse condominium.
| House Style | Units Sold | Average Price |
| --- | --- | --- |
| 2 Storey | 155 | $317,317 |
| Bungalow | 111 | $190,273 |
| Ranch | 81 | $292,319 |
| Townhouse | 61 | $148,933 |
Click here to read the full News Release of LSTAR.