The London and St Thomas Association of REALTORS® (LSTAR) reported 993 homes sold last month in its jurisdiction. "Even though this represents the second highest number of home sales recorded via LSTAR's MLS® system for the month of July, this value is more in line with our pre-pandemic figures, which suggests that our market may be stabilizing," said LSTAR 2021 President Jack Lane. 
LSTAR's overall average sales price was $614,913 in July 2021, 26.6% over the same period last year. 
"July's average sales price was slightly lower than the year-to-date value, which reflects the moderating trend seen across the country, reinforcing, at the same time, the idea that our local real estate market is starting to level off. However, the high demand for housing and the historically low inventory levels that we are currently experiencing still make for a robust housing market, where the Sellers have the upper hand," Lane added. 
The following table shows how last month's average sales prices compare to the benchmark prices. The MLS® Home Price Index (HPI) benchmark price reflects the value of a "typical home" from a certain area as assigned by local home buyers based on various housing attributes. The average sales price is calculated by adding the sale prices for all the homes sold and dividing that total by the number of transactions. Since monthly averages may be skewed by the type of houses sold in that timeframe, the HPI benchmark price is a more accurate way to gauge price trends. 
| Area | July 2021 MLS® HPI Benchmark Price | July 2021 Average Price |
| --- | --- | --- |
| Elgin | $618,300 | $583,145 |
| London East | $496,500 | $510,039 |
| London North | $684,600 | $699,496 |
| London South | $569,600 | $636,439 |
| Middlesex | $857,800 | $845,051 |
| St. Thomas | $505,400 | $495,409 |
| Strathroy | $668,000 | $579,272 |
| LSTAR | $578,600 | $614,913 |
Inventory illustrates how long it would take to liquidate existing housing inventories at the current rate of sales activity. At the end of July, there were 0.8 months of inventory across the entire LSTAR area, with the lowest inventory level seen in St. Thomas – at 0.5 months.
The single-family home remains on top of the local buyers' preferences, with 749 sales in July. "Despite that, apartment sales seem to be making a great "come back", with the MLS® apartment market activity having its second best July ever," Lane noted.
The table below shows the July benchmark prices for all housing types in LSTAR's jurisdiction and how they stack up against the values from a year ago.
MLS® Home Price Index Benchmark Prices

Benchmark Type

July 2021

Change over July 2020

LSTAR Composite
$578,600
↑ 33.3%
LSTAR Single-Family
$629,900
↑ 36.2%
LSTAR One Storey
$579,000
↑ 36.3%
LSTAR Two Storey
$679,200
↑ 36.2%
LSTAR Townhouse
$467,100
↑ 34.6%
LSTAR Apartment
$301,100
↑ 7.3 %
"All potential buyers and sellers should understand that each housing transaction is unique and does not necessarily reflect the activity across the entire marketplace," Lane emphasized. "A property's value depends on the housing type, its geographical location and features, as well as many other factors that REALTORS® are familiar with and can use to accurately evaluate it. That is why it's always advisable to have a REALTOR® in your corner when you are thinking to either buy or sell a home," he added. 
Despite all the increases seen in the HPI benchmark prices and average sales prices, homes in LSTAR's jurisdiction appear to be relatively affordable when compared to houses from some other major Ontario and Canadian centres. The following chart is based on data taken from the CREA National Price Map for June 2021.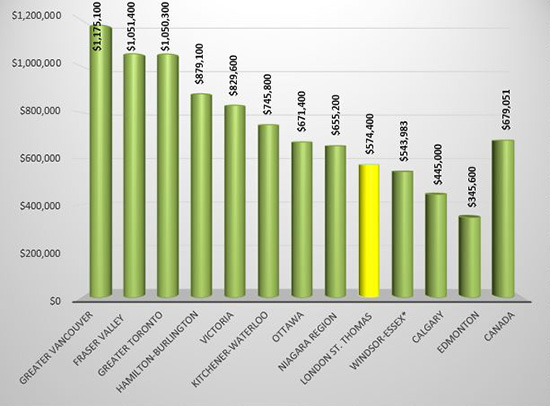 According to a research report[1], a total of $73,250 in ancillary expenditures is generated by the average housing transaction in Ontario over a period of three years from the date of purchase.
"This means that our July home sales could potentially translate into more than $72 million back into the local economy within the next few years," Lane concluded.
---
[1]Economic Impacts of MLS® Systems Home Sales and Purchases in Canada and the Provinces, Altus Group, 2019.