The London and St Thomas Association of REALTORS® (LSTAR) announced 802 homes exchanged hands last month, marking the third consecutive year that more than 800 homes were sold in the month of September*.
"Home sales are slightly down compared to last September, but we are still on track to achieve a record sales year for 2017," said Jim Smith, 2017 LSTAR President. "We're experiencing activity that signifies a more balanced marketplace, and expect a strong finish to the year."
In September, a total of 646 detached homes were sold, a decrease of 9.8% from the previous year, while condominium sales were up 4.0% from 2016, with 156 units sold. The average sales price across London and St. Thomas was $318,347 slightly down 1.0% from the previous month. The average year-to-date sales price was $328,759, up 17.8% from the 2016 average home price of $279,057.
"The activity echoes what's happening in many other parts of the country," Smith said. "According to the Canadian Real Estate Association (CREA), there was a roughly even split of local markets where sales posted a slight decline and others saw a slight increase. I want to stress our region's marketplace continues to be healthy, and your best source to help you navigate what's trending is a local REALTOR®."
In September, there were 1,026 listings, up 3.3% from the same time in 2016. The year-to-date sales are ahead by 13.1%, with a total of 9,219 homes sold. St. Thomas saw a total of 71 homes sold, up 6.0% from the same time last year. The average home price in St. Thomas was $272,251 slightly up 0.6% from the previous month.
The best-selling house style in September in LSTAR's jurisdiction continues to be the two-storey, followed by the bungalow and ranch. The average price for a detached home in September was $337,574 down 1.7% from the previous month, while the average price for a condominium was $238,730 up 2.0% from September 2016.
| House Style | Units Sold | Average Price |
| --- | --- | --- |
| 2 Storey | 169 | $442,317 |
| Bungalow | 141 | $249,057 |
| Ranch | 101 | $385,034 |
| Townhouse Condo | 84 | $219,821 |
| High rise apt. condo | 42 | $221,469 |
The following chart is based on data taken from the Canadian Real Estate Association's (CREA) National MLS® Report for August 2017 (the latest CREA statistics available). It provides a snapshot of how average home prices in London and St. Thomas compare to other major Ontario and Canadian centres.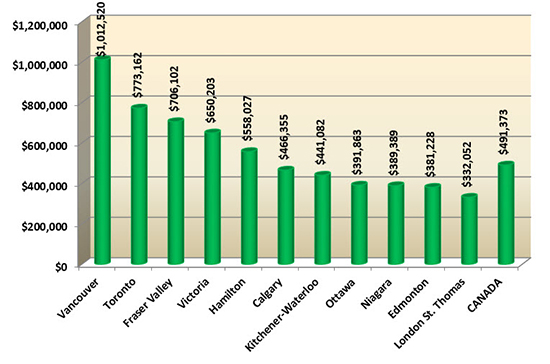 According to a research report1, one job is created for every three real estate transactions and approximately $53,000 in ancillary spending is generated every time a home changes hands in Ontario. "Based on the monthly total for September, that translates into creating approximately 267 jobs and positioning us to potentially generate more than $42 million back into the local economy," Smith said.
*These statistics represent a data snapshot taken on October 1, 2017, based on reported sales activity between September 1 and 30, 2017.
---
1 Economic Impacts of MLS® System Home Sales and Purchases in Canada and the Provinces, Altus Group Consulting, 2013.