The London and St. Thomas Association of REALTORS® (LSTAR) is thrilled to host the 2017 Don Smith Commercial Building Awards on April 23, 2018 at the London Convention Centre. The biannual reception and awards ceremony recognizes the top commercial, industrial, multi-family and community buildings across the LSTAR region. The program was named after the late Don Smith, legendary co-founder of EllisDon, a world-renowned construction company with deep roots in London, Ontario.
"The awards were established in 2009 to inspire the architectural and construction community to honour commercial building excellence across the region," said John Geha, LSTAR. "This is a tremendous opportunity to recognize the outstanding talent, innovation and design by the developer, construction and architectural businesses who create these amazing buildings across the region," he added.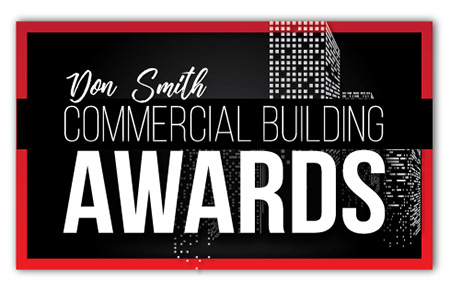 What: 2017 Don Smith Commercial Building Awards
When: Monday, April 23, 2018 between 5:00 p.m. and 7:00 p.m.
Where: London Convention Centre, 300 York Street, London, Ontario
Categories include Commercial (retail and office), Industrial, Multi-family and Institutional (community). A judging panel evaluates the projects, with the following criteria:
Building, development or renovation located within LSTAR's jurisdiction
Design and innovation
Addresses a specific developmental need within the community
Sensitive to the environment
Completed between August 1, 2015 and July 31, 2017
The 2017 nominees are:
WEST 5
St. John Catholic Elementary French Immersion
Goodlife Home Office
Sobeys Plaza Oxford and Wonderland
FIMS and Nursing Building, Western University
Masonville Place Renovations
Canada 150 Pavilion at Harris Park
Villas of Wortley
LSR (London Street Railway) Power Plant
The Cube – Talbot Street
London City Centre Re-Vitalization Project
Elemex Architectural Façade Systems
Design and Construction of Mixed-Use Building Renovation
Canadian Centre for Product Validation (CCPV), Fanshawe College
Sodecia Global Technology and Innovation Centre
London Free Press/Post Media
MEC London
South London Community Centre
No. 11 Fire Station
Violence Against Women, Services Elgin County, Residential and Counseling Facility
The program will feature a new award, the Legacy Award, which recognizes any building that is unique and/or significant to the London and St. Thomas jurisdiction.
The Legacy Award nominees are:
London Life
CASO Station, St. Thomas
University College, Western Tower
St. Peter's Basilica
Middlesex County Court House
Elgin County Court House
Individual tickets are available for purchase at $40.00 per person. A cocktail reception is scheduled to start at 5:00 p.m., with the awards program beginning at 6:00 p.m. Those interested in attending are encouraged to visit Eventbrite and register for the Commercial Building Awards.
The Don Smith Commercial Building Awards are made possible through LSTAR's sponsorship partners, who include Canada Mortgage and Housing Corporation (CMHC), CBRE Limited, CIBC, Colliers International, County of Elgin, Dancor Construction, EllisDon Corporation, Fanshawe College, Lennar Corporation, Lexus of London, Libro Credit Union, MMSI, Municipal Property Assessment Corporation (MPAC), Ontario Real Estate Association (OREA), Pillar to Post, RBC Royal Bank, Royal LePage Triland Realty, Supra, TD Canada Trust, Teranet and Tricar Group.