On December 19, 2012, the London and St Thomas Association of REALTORS® presented Brian Hughes, Youth Opportunities Unlimited's (YOU) President, with cheques totaling $27,000 to be used towards the purchase of needed kitchen equipment and an expansion of both YOU's kitchen and its food preparation area.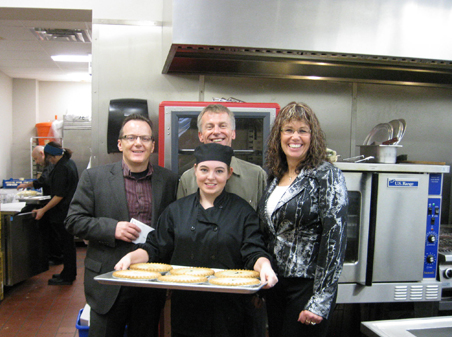 "In addition to feeding residents and teaching them food preparation and meal planning skills, the kitchen plays a pivotal role in a number of YOU's Enterprise Services," explains Whitney. These services include providing the food sold at the YOU Made It Café and used in its catering business, as well as the production of Market Quality Preserves, a line of quality jams, jellies, salsas, BBQ sauces and rubs, made by a team of youths under the supervision of an accredited chef.
One cheque – for $11,500 – is from the REALTORS Care Foundation, the charitable arm of the Ontario Real Estate Association. Grant applications must be endorsed by local REALTOR® associations.
The other – for $15,500 – was raised through LSTAR's Business Partners Program and its annual Slo-Pitch Tournament. "This money is usually earmarked for our Home at Last Affordable Homeownership Partnership," explains LSTAR President Barb Whitney. "However, that partnership is in temporary hiatus, so the Directors decided to divert funds from it for one year only to ensure that YOU's kitchen is fully functional."
"LSTAR applauds the great work being done by YOU to prevent youths at risk from falling through the cracks by giving them the tools, training and life skills they need to become contributing members of society," says Whitney.