A total of 382 homes sold in January 2014, down 12.8% from the previous year. "January is traditionally a slow month for real estate," says Jim Holody, the 2014 President of LSTAR, "and the Polar Vortex undoubtedly put an additional chill on the market. Not even Canadians want to go house hunting when it's 20 below! The market fundamentals in our area are strong and we've got eleven months to play catch-up and then some." He adds, "For savvy buyers who don't mind braving the cold and the snow, now is the time to enter the marketplace and buy a home  when everyone else is waiting for things to warm up!"
Listings for the month were also down 6.2%, although inventory - active listings end of period - were up 2.2%.
The City of St. Thomas fared little better than London in January 2014, with 29 sales, 13 short of the 42 homes sold in January of the previous year. Listings were also down 20.8%.
The average price of a detached home in January 2014 stood at $262,632, up 0.4% from the previous month, while the price of a condo dropped 4% to $169,450. The average price for a home in St. Thomas in January 2014 stood at $202,021, down 16.9%. However, the average price for a home in the London Census Metropolitan Area is $246,289, up 0.2%.
The following chart, based on data taken from CREA's National MLS® Report for November 2013 (the latest information available), demonstrates how homes in LSTAR's jurisdiction continue to maintain their affordability compared to other major Ontario and Canadian centers.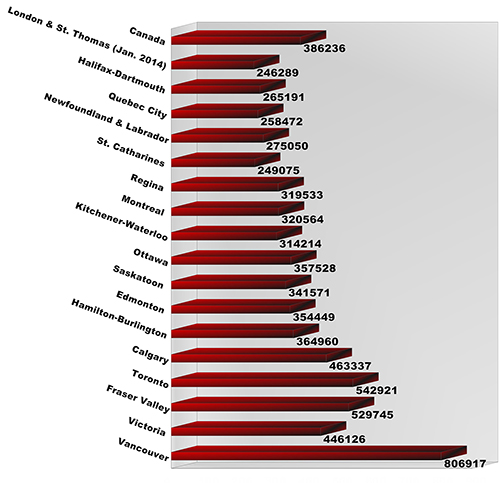 The best-selling house style in LSTAR's jurisdiction for January 2014 was the two-storey, then the bungalow. Ranches tied with townhouse condominiums for third place.
| House Style | Units Sold | Average Price |
| --- | --- | --- |
| 2 storey | 93 | $373,271 |
| Bungalow | 64 | $183,658 |
| Ranch | 31 | $276,008 |
| Townhouse | 31 | $159,604 |
Click here to see the original News Release of the London and St. Thomas Association of REALTORS®.