Home sales in November were up 7.6% overall, with 551 homes exchanging hands over the past month. "We always like to see an increase in sales," says Doug Pedlar, President of the London and St. Thomas Association of REALTORS®. "It's important, however, to bear in mind that last November's sales were comparatively low, which means that what we are seeing now may be more like a market correction than anything else." The average number of sales for November between 2008 and 2012 was 535.
The City of St. Thomas also fared well in November, with 44 sales, up two units from the previous year.
The average price for a home in St. Thomas stands at $199,325 Year-to-Date, up 4% over last year. The average price of a detached home Year- to-Date in LSTAR's jurisdiction is $261,060, up 2.6%, while the average price of a condo for the same period stands at $178,431, up 4.1%. The average price of all homes Year-to-Date in LSTAR's jurisdiction is $245,964, up 3 %.
The following chart, based on data taken from CREA's National MLS® Report for October 2013 (the latest information available), demonstrates how homes in LSTAR's jurisdiction continue to maintain their affordability compared to other major Ontario and Canadian centers.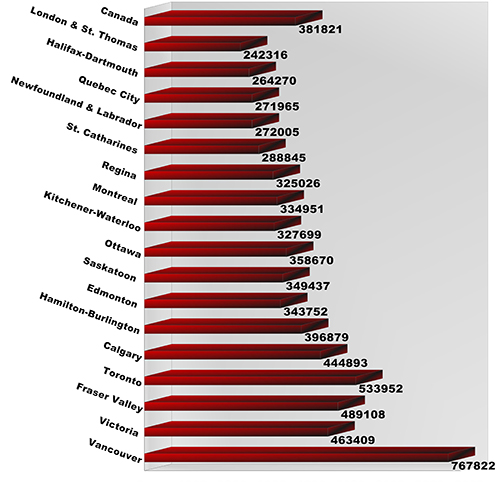 The best-selling house style in LSTAR's jurisdiction in November 2013 was the two-storey, followed by the bungalow, then the ranch, then the townhouse condominium.
| House Style | Units Sold | Average Price |
| --- | --- | --- |
| 2 Storey | 135 | $334,124 |
| Bungalow | 103 | $191,161 |
| Ranch | 75 | $286,320 |
| Townhouse | 35 | $147,691 |
Click here to see the full News Release of LSTAR.