Sales last month were up over those of the previous May by 3.5%, with 751 detached homes exchanging hands and 162 condos. This represents a 7% increase in sales for detached homes and a 10 % decrease in condo sales. "May's figures underscore the fact that our local market remains vibrant," advised Barb Whitney, President of London and St. Thomas Association of REALTORS® (LSTAR). "What we're seeing now in terms of sales is more on a par with previous Mays going back to the turn of the millennium."
"Active listings at month's end were down 7.3%, a bit of a departure from what we've seen over the past several years. This points to a ramping up in activity," says Whitney. "We continue to see our market as balanced, however – now and for the near future."
Real estate sales remained steady in London's Sister City of St. Thomas – 65 units, only 7 less than the previous year. The average price for a home in St. Thomas stands at $189,229 Year to Date, up 10.7 % since January 2012. The average price for a home in LSTAR's jurisdiction Year to Date stands at $240,485, an increase of $15,458 since January 2012 – an increase of 6.9%. The average price for a detached home over that same period stands at $257,023, up 5.3 %, while the average price for a condo stands at $168,852, down 3.4% from January.
The following chart, based on data taken from CREA's National MLS® Report for April 2012 (the latest information available), demonstrates how homes in LSTAR's jurisdiction continue to maintain their affordability compared to other major Ontario and Canadian centers.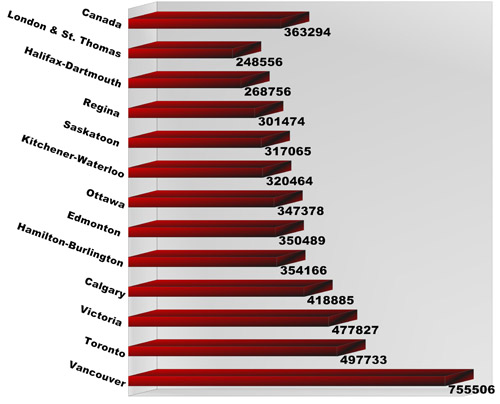 The best-selling house style in LSTAR's jurisdiction last month was the two-storey, followed by the bungalow, then the ranch, then the townhouse condominium.
Click here to read the full News Release of LSTAR for April 2012.