Twenty-two Past Presidents of LSTAR assembled at the Highland Country Club on the evening of June 28, 2016 for the Association's annual Past Presidents Dinner, including Ron Annis (1981-83), Greg Anthony (2000), Vince Bogdanski (1997), Dennis Broome (1996), Glen Gordon (2003), Michael Hines (2002), Peter Hoffman (1994), Jim Holody (2014), Jack Lane (2011), Nancy McCann (1998), Angus McLennan (1973), Harry Mohaupt (1987), Grant Monteith (1993), Rick Odegaard (2001), Doug Pedlar (2013), Joe Pinheiro (1986, 1992), Tony Sonderup (1989), Richard Thyssen (2010), Carl Vandergoot (2015), Gerry Weir (1999), Barb Whitney (2012), and LSTAR's most Senior of Statesmen, Ron Richardson, whose first term took place 68 years ago in 1948.
Richardson went on to serve two more terms, in 1949 and later 1959. Asked how real estate has changed in the last six decades, Richardson said, "When I first started out in the business, fifty percent of my sales were done on a handshake alone."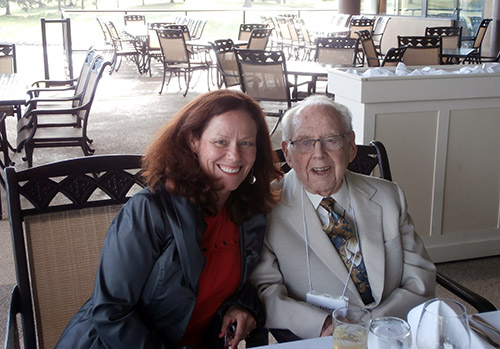 LSTAR Past President Ron Richardson and his daughter Maureen Wood
"The collective wisdom and the depth of history this group represents is staggering," says Stacey Evoy, LSTAR's 2016 President. "When we come together like this, all these generations, I can't help but be reminded what deep roots our Association has in our community. It's truly inspiring."
Click here to see the original News Release of LSTAR.