For the fifth month in a row area home sales have exceeded those of the previous year:
in May by 5%
June by 23.4%
July by 24.4%
August by 13.6% and
September by 11.1%.
682 homes sold in September 2014, making last month the best September since 2011. "Year to date, we've seen 6,778 homes exchange hands," says Jim Holody, President of the London and St. Thomas Association of REALTORS®. "That's 7.4% more transactions than last year at this time – great news for our area, given how many jobs home sales create and the amount of ancillary spending generated every time a house exchanges hands – approximately $55,000 in Ontario. That's why REALTORS® are taking steps to ensure that our municipal politicians know how much the imposition of a Municipal Land Transfer Tax would hurt our local economy. According to a study done by Altus Group Economic Consulting, the potential economic implications of such a tax on London, Ontario, in the period 2014-2018, would be a loss of $270 million in economic activity, a reduction of $140 million in GDP, a loss of 1,771 jobs at a time when things are just starting to turn around and a loss of $92 million in wages and salaries."
570 detached homes exchanged hands last month, up 9.8%; condos were up 17.9%, with 112 sales. Listings were also up 8.3% for detached homes and 4.7% for condos. Overall inventory was up 2%. The market continues to be balanced.
St. Thomas also performed well in September. 69 homes sold in that City last month – an increase of 13 units or 23.2% over the previous September. "This makes September 2014 the best September for St. Thomas since 2005 when 74 homes sold," says Holody. Year to Date sales in St. Thomas are up 2.9% overall and the average price of a home in that City Year to Date is $202,326, up 0.4%.
The average price for a home in LSTAR's jurisdiction (Elgin and Middlesex Counties) Year to Date was up 4,1% for detached homes ($271,775) and 2% for condos ($181,827). The average price for all homes in the London and St. Thomas area Year to Date stands at $254,616, up 3.6%.
The following chart, based on data taken from CREA's National MLS® Report for August 2014 (the latest information available), demonstrates how homes in LSTAR's jurisdiction continue to maintain their affordability compared to other major Ontario and Canadian centers.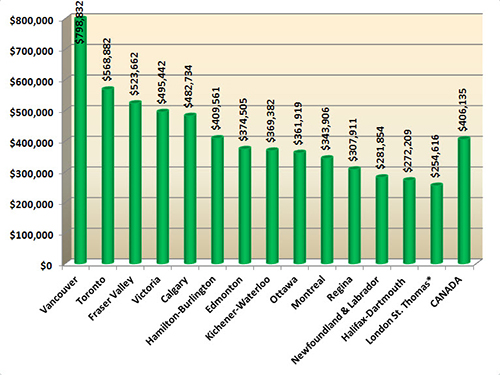 The best-selling house style in LSTAR's jurisdiction for September 2014 was the two-storey, then the bungalow, followed by ranches, then townhouse condominiums, then high rise apartment condos.
| House Style | Units Sold | Average Price |
| --- | --- | --- |
| 2 storey | 185 | $365,760 |
| Bungalow | 114 | $195,712 |
| Ranch | 73 | $324,514 |
| Townhouse | 51 | $175,618 |
| High rise apt. condo | 29 | $128,006 |
See the original news release of LSTAR for September 2014.
---
* Average Price Year to Date as of September 30, 2014