The real estate market cooled in September 2012, with only 596 homes exchanging hands over the course of the month. Altogether 493 detached homes sold, down 16.3% from September 2011, along with 103 condos, down 8.8%. Total sales were down 15.1%.
"There was a slump in resale housing activity nationwide between July 2012 and August 2012, with declines reported in about two-thirds of all local markets, including our own, " says Barb Whitney, President of the London and St. Thomas Association of REALTORS®. "The data isn't in from around the country yet, but we're likely going to see a similar pattern play out this month as last." She adds, "According to the Canadian Real Estate Association, recent changes to mortgage regulations are just now starting to have a dampening effect upon the market. Now that amortization periods for high ratio mortgages have been shortened, fewer first time buyers can qualify for a mortgage than previously. Lower first-time buying activity is a lynchpin of the housing market and its curtailment was bound to have downstream effects over the rest of the market." Year-to-Date home sales are even with last year's.
New listings were also down 11.9%, while inventory – the number of active listings at month end – was down 8.7%. The Sales-to-New-Listings ratio, which measures the balance between demand and supply in a market, stood at 47% for detached homes in September 2012 and 42% for condos. "That's an indication that our market remains balanced," says Whitney.
The City of St. Thomas experienced a slump in sales as well. 51 homes sold in September, 10 units less than the previous September, a decline of 16.4%. The average price for a house in St. Thomas Year-to-Date Is $191,340, up 1% from December 31, 2011.
The average price for a home in LSTAR's overall jurisdiction also continues to rise. Year-to-Date the average price stands at $238,808, up 2.8% compared to December 31, 2011. The following chart, based on data taken from CREA's National MLS® Report for August 2012 (the latest information available), demonstrates how homes in LSTAR's jurisdiction continue to maintain their affordability compared to other major Ontario and Canadian centers.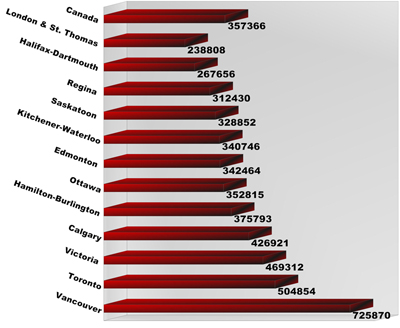 Click here to read the full News Release of LSTAR.