Overall sales were up 3% in September, with a total of 614 homes exchanging hands in LSTAR's jurisdiction. Detached homes were up 5.3%, while condos were down 7.8%. "To put this into perspective, overall sales were a little down in September 2012", says Doug Pedlar, President of the London and St. Thomas Association of REALTORS®. "This September was a little more like business as usual."
The City of St. Thomas's market performed well last month. 56 homes sold in that City, up 9.8%. The average price for a home in St. Thomas Year to Date stands at $195,537, up 2.1%.
The average price of a detached home Year to Date in LSTAR's jurisdiction is $262,001, up 3%, while the average price of a condo for the same period stands at $179,021, up 4.4%. The average price of all homes Year to Date in LSTAR's jurisdiction is $246,849, up 3.4%.
The following chart, based on data taken from CREA's National MLS® Report for August 2013 (the latest information available), demonstrates how homes in LSTAR's jurisdiction continue to maintain their affordability compared to other major Ontario and Canadian centers.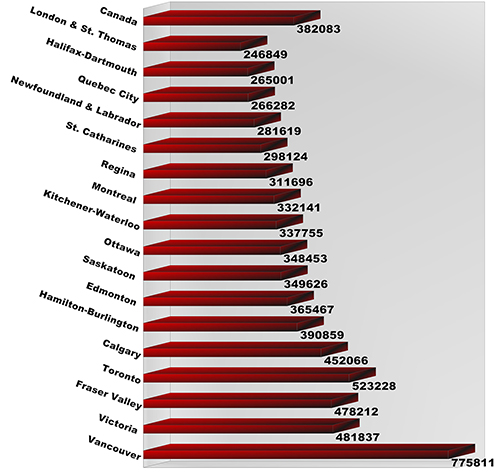 The best-selling house style in LSTAR's jurisdiction in September 2013 was the two-storey, then the bungalow, then the ranch, then the townhouse condominium.
| House Style | Units Sold | Average Price |
| --- | --- | --- |
| 2 Storey | 159 | $320,718 |
| Bungalow | 123 | $191,368 |
| Ranch | 68 | $290,694 |
| Townhouse | 46 | $157,863 |
Click here to read the full News Release of LSTAR.