Despite temperatures that continued to dip well below average for the month of March, there were signs that Spring had finally arrived for a region that had remained locked in a deep freeze over one of the coldest, snowiest and longest winters on record – real estate sold signs! In March 2014, 548 detached homes sold, up 10.7%, along with 118 condos, up 0.9%. Altogether 666 homes exchanged hands, up 8.8%. "In addition to the fact that the Spring market typically kicks into action in March, there was a lot of demand pent up over the unusually severe winter," says Jim Holody, President of the London and St. Thomas Association of REALTORS® (LSTAR). "Those are the reasons we're seeing these higher numbers."
Listings for the month were up a marginal 0.2%, while inventory - active listings end of period - were up 1.8%. The local market continues to be a balanced one. "Now that the thaw has finally broken and things are beginning to move, buyers and sellers would be advised to get in before the market tightens up," says Holody.
The City of St. Thomas saw 48 homes exchange hands in March, 2 short of the previous March. Listings were down 2 units and the average price for a home in St. Thomas, Year To Date, stands at $204,625, up 7.8% compared to December 31, 2013.
The average price of a detached home in LSTAR's jurisdiction in March 2014 stood at $269,497, up 3.5% from February 2014, while the price of a condo rose 1.6% to $182,282.The average price for all homes sold in LSTAR's jurisdiction in March 2014 was $254,045, up 4.5% from February 2014.
The following chart, based on data taken from CREA's National MLS® Report for February 2014 (the latest information available), demonstrates how homes in LSTAR's jurisdiction continue to maintain their affordability compared to other major Ontario and Canadian centers.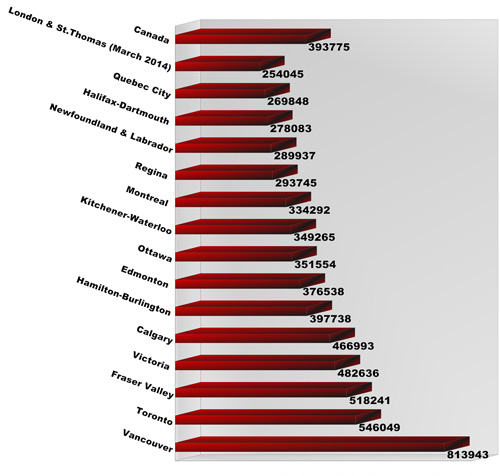 The best-selling house style in LSTAR's jurisdiction for March 2014 was the two-storey, then the bungalow, followed by ranches and then townhouse condominiums.
| House Style | Units Sold | Average Price |
| --- | --- | --- |
| 2 storey | 180 | $333,256 |
| Bungalow | 97 | $203,250 |
| Ranch | 88 | $318,786 |
| Townhouse | 59 | $157,124 |
Click here to read the full News Release of LSTAR.