The Spring Market was off to a slow start in March with home sales down 20.5%. The cooling off impacted detached homes and condos almost equally, with 495 detached homes exchanging hands last month – down 20.5% - and 117 condos – down 20.4%. Altogether a total of 612 homes sold in March 2013. "We consider March the beginning of the Spring market," says Doug Pedlar, President of the London and St. Thomas Association of REALTORS®, "but Spring in Canada is not necessarily all that spring-like. March 2012 broke all records for unseasonably warm weather, while March 2013 came in and out like a lion. There are always a lot of factors at work when it comes to whether a market is slow or steady or brisk, but weather is definitely one of them. People like to go out house hunting when the weather is nice, not when it means trudging through a lot of ice and snow."
New listings were also down 9.4% overall, while inventory – the number of active listings at the end of the month – were down 7.2%.
St. Thomas weathered the storms of March better than London. Fifty homes sold in St. Thomas in March 2013, the same number as last March. Year-to-Date sales are up 12.8% in St. Thomas, while the average price for a home in that City Year-to-Date stands at $198,548, up 3.6% from the year before.
"The good news is that the average price for a home in our Association's jurisdiction Year-to-Date stands at $241,756 - up 1.2% from December 31, 2012," says Pedlar, "and that the London area remains very affordable compared to other centres across Canada." The following chart contains data provided by the Canadian Real Estate Association (dating from February 2013 - the latest information available).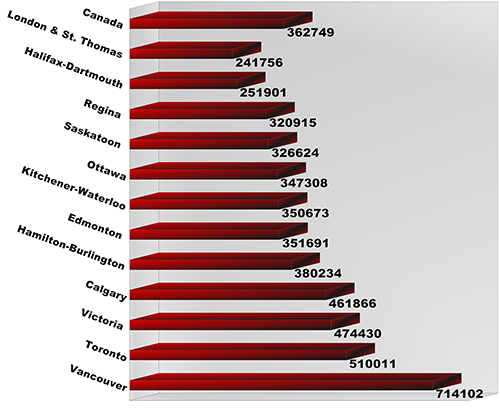 The best-selling house style in LSTAR's jurisdiction in March of 2013 was the two-storey, followed by the bungalow, then the ranch, then the townhouse condominium.
| House Style | Units Sold | Average Price |
| --- | --- | --- |
| 2 Storey | 155 | $335,561 |
| Bungalow | 111 | $210,127 |
| Ranch | 77 | $282,405 |
| Townhouse Condo | 57 | $150,191 |
Click here to see LSTAR's News Release in PDF format.