Area home sales began to trend upwards in the Spring of 2014 with sales that exceeded those of the previous year in May (by 5%), June (by 23.4%), July (by 24.4%) and, now, August (by 13.6%). 791 homes sold in August 2014, making last month the best August since 2007, when 871 homes sold. "Even better, we're starting to pull ahead of last year," says Jim Holody, President of the London and St. Thomas Association of REALTORS®. "As of August 31, a total of 6,102 homes have sold, 7.1% over 2013 at this same time. We're seeing a strong recovery on the part of our local market after a long, hard winter and an unusually cool spring. If this continues, 2014 may very well prove to be a better year than 2013."
642 detached homes exchanged hands last month, up 15.9%; condos were up 4.9%, with 149 sales. By contrast, listings for August were down – 3.8% for detached homes and 10.4% for condos. "The improving job picture in our region supports a higher level of activity," says Holody. "That, in turn, impacts inventory. However, there are still a lot of great homes out there and more being listed every day." Despite the slight decline in the number of listings, the market remains balanced, benefiting buyers and sellers alike.
The news for St. Thomas was also good. 68 homes sold in that City last month – an increase of 14 units or 25.9% over the previous August. "This makes August 2014 the best August for St. Thomas since 2009 when 75 homes sold," says Holody. Year to Date sales in St. Thomas are up 0.6% overall and the average price of a home in that City Year to Date is $202,122, up 0.3%.
The average price for a home in LSTAR's jurisdiction (Elgin and Middlesex Counties) Year to Date was up 3.8% for detached homes ($271,033) and 2.1% for condos ($182,111). The average price for all homes in the London and St. Thomas area Year to Date stands at $253,823, up 3.3%.
The following table, based on data taken from CREA's National MLS® Report for July 2014 (the latest information available), demonstrates how homes in LSTAR's jurisdiction continue to maintain their affordability compared to other major Ontario and Canadian centers.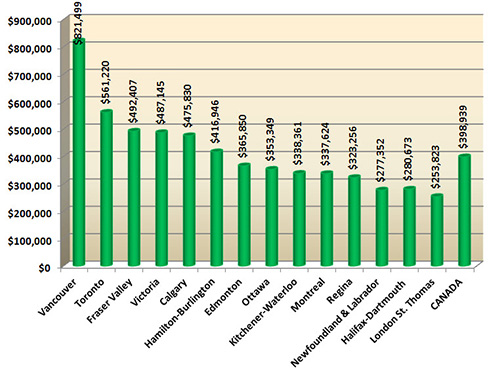 The best-selling house style in LSTAR's jurisdiction for August 2014 was the two-storey, then the bungalow, followed by ranches, then townhouse condominiums, then high rise apartment condos.
| House Style | Units Sold | Average Price |
| --- | --- | --- |
| 2 storey | 189 | $347,378 |
| Bungalow | 122 | $200,599 |
| Ranch | 98 | $328,744 |
| Townhouse | 71 | $150,313 |
| High rise apt. condo | 32 | $159,392 |
See the original news release of LSTAR for August 2014.