The winners of the "Don Smith" Commercial Building Awards, established by the Regional Commercial Council (RCC) of the London and St. Thomas Association of REALTORS® (LSTAR) and sponsored by D&H, CBRE, TD Commercial Banking and Honeywell Building Solutions, were announced last night (February 7, 2012) to a capacity crowd at the London Club.
The awards program was established, "to recognize, reward and celebrate excellence and innovation in commercial building right here at home." The program was named after Don Smith, legendary co-founder of EllisDon, a world-renowned construction company with London roots.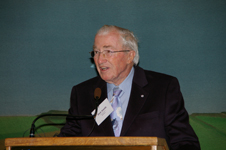 The 18 entrants to the competition were judged on how environmentally sensitive the individual buildings were; on design and innovation; and on the extent to which they met a specific developmental need within the broader community.
The panel of judges included:
Awards were presented for:
Commercial Building Achievement Category:
Industrial Building Achievement Category:
Institutional Building Achievement Category:
Multi-Family Building Achievement Category:
Click here to watch a slideshow with pictures from the 2011 Commercial Building Awards reception.
Also present at the event were Barb Whitney, 2012 LSTAR President, Members of the RCC Executive, Greg Harris, the RCC Chair as well as Phil Nanavati, Director, CREA Canadian Commercial Council and Azizali Kanjee, Chair, OREA Ontario Commercial Council.
Winners of 2011 "Don Smith" Commercial Building Awards Announced