In January 2023, only 344 residential transactions were recorded via the MLS® System of the London and St. Thomas Association of REALTORS® (LSTAR). This makes last month the January with the lowest number of home sales seen by LSTAR since 2009.
During the same period, 823 new listings came on the market, thus bringing the number of active listings at month's end to 1,261. The overall sales-to-new listings ratio for the entire jurisdiction of LSTAR sat at 41.8%.
"At a first glance, all these figures seem to indicate a cooling market, with a healthier housing supply. With 3.7 months of inventory, decreasing house prices, and a sales-to-new-listings ratio under 50%, home buyers could appear as favoured. However, when taking into consideration the surging borrowing costs, it's easy to understand why many buyers are hesitating to get into this market. After last year's consecutive rate increases, on January 25th, 2023, the Bank of Canada increased its benchmark rate again to 4.5%, further weighing down on people's spending power and housing affordability," said 2023 LSTAR President Adam Miller.
Compared with January 2022, both the average home price and the composite MLS® Home Price Index (HPI) Benchmark Price are substantially lower – by 25.6% and 22.2% respectively. Despite that, both of them are considerably higher than the figures seen in 2020 and before. Last month, LSTAR's overall average home price was $585,252 and the composite MLS® HPI Benchmark Price came in at $568,300.
The following table shows how January's average home prices in LSTAR's main regions compare to the benchmark prices for the same areas. 
| Area | January 2023 MLS® HPI Benchmark Price | January 2023 Average Price |
| --- | --- | --- |
| Central Elgin | $573,200 | $602,500 |
| London East | $475,500 | $463,500 |
| London North | $682,800 | $678,923 |
| London South | $565,900 | $593,949 |
| Middlesex Centre | $800,000 | $791,556 |
| St. Thomas | $484,100 | $529,512 |
| Strathroy-Caradoc | $691,200 | $611,784 |
| LSTAR | $568,300 | $585,252 |
In January, the single-family home remained the most sought-after house type, with 249 such homes sold, followed by the condo townhouse, with 44 units exchanging hands. The apartment ranked third, with only 38 units sold.
"Out of all house types, condos saw the lowest year-over-year decline in average price. Last month, their average price was 21.2% lower than in January 2022, but 45.4% higher than in the first month of 2020. In addition, their MLS® HPI benchmark price is 48.7% higher than three years ago," Miller observed.
The following table shows the January 2023 benchmark prices for all housing types in LSTAR's jurisdiction and how they compare with the values from 2022 and 2020.
MLS® Home price Index Benchmark Prices

BENCHMARK TYPE
JANUARY 2023
CHANGE OVER JANUARY 2022
CHANGE OVER JANUARY 2020
LSTAR Composite
$568,300
↓22.2%
↑40.8%
LSTAR Single-Family
$604,200
↓23.1%
↑40.9%
LSTAR One Storey
$545,000
↓21.5%
↑42.6%
LSTAR Two Storey
$644,900
↓24.0%
↑40%
LSTAR Townhouse
$501,100
↓18.6%
↑48.7%
LSTAR Apartment
$374,600
↓16.8%
↑29%
"When compared to other values recorded provincially and nationally, homes in our area continue to remain relatively affordable," Miller said. The following table shows HPI benchmark prices for January, courtesy of CREA.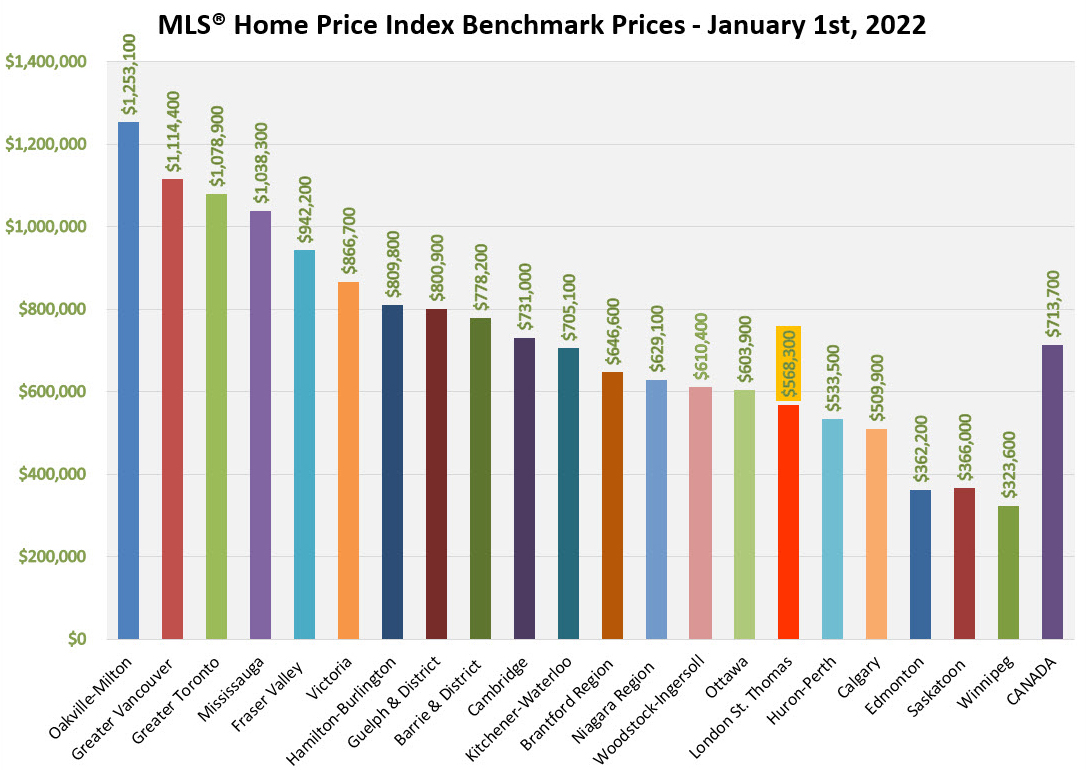 According to a research report1  by Altus Group, a total of $73,250 in ancillary expenditures is generated by the average housing transaction in Ontario over a period of three years from the date of purchase. 
"That means that the home sales recorded by LSTAR in the first month of 2023 could potentially bring over 25 million in spin-off spending to our local economy by 2026," Miller said.
"With the local communities being some of the fastest growing in the country, the housing demand in our area is not waning. Whether this demand will translate into more home renters or more homeowners in the next couple of years depends mainly on how fast the Bank of Canada reins in inflation and starts reducing borrowing costs," Miller concluded.
 
---

1Economic Impacts of MLS® Systems Home Sales and Purchases in Canada and the Provinces, Altus Group, 2019